Mani Coolin' emerged onto the rap scene with his 2011 project Something Perfect. The 12-track EP included a slew of features, including a prominent collaboration from Casey Veggies, a childhood friend and artists on the rise as well. This served as only beginning what would become a "part-time job" for the L.A. rapper. Over the years, Coolin' released a number of projects such as For The Moment and Bad Decisions, Good Intentions.
It wasn't until Coolin's 2015 album Hope 4 The Youth when he solidified himself as an artist to look out for from the city. The project boasted features from Niko G4, League, Hardaway Smith, and Cozz, who had signed to J. Cole's Dreamville Records imprint just a year prior. Standout songs such as "Next Summer," "Free My Mind," and "Hope" remain in rotation to this day.
Aside from working effortlessly in the studio, Coolin' can also be seen touring around the city. The L.A. emcee has headlined several events and performed at festivals including Rolling Loud and A3C.
Today, Coolin' is among the latest wave of emcees putting on for the West Coast. In late-2018, he dropped off his Here 4 Me Only album with hopes of building an audience. Since then, Mani Coolin' has established himself as one of Los Angeles' promising underground talents.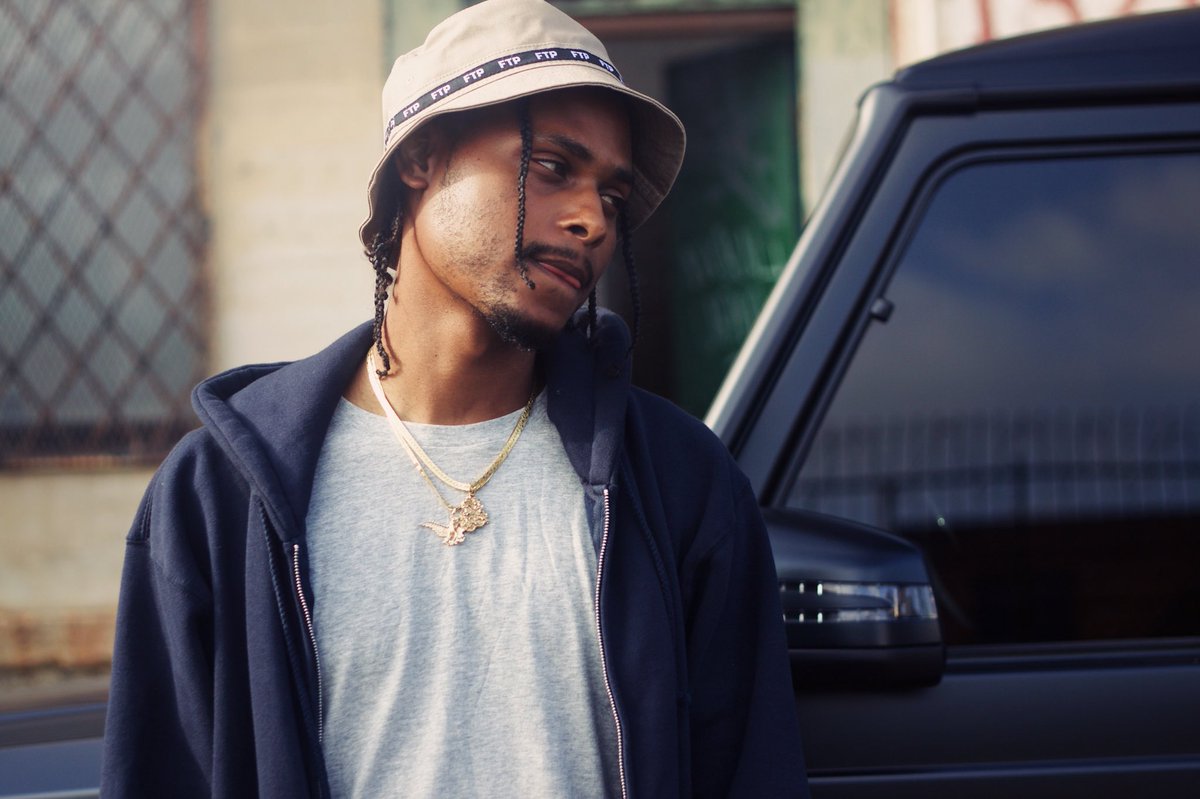 Malc: Where are you from?
Mani Coolin': Los Angeles. West Adams area, mid-city to be exact, but all around the city. Damn near everywhere really. All around LA.

Malc: Los Angeles is known for birthing a lot of notable rappers. Did you gravitate to any lyricists growing up?

Mani Coolin': Shit, not growing up. Not until a nigga heard Nipsey. Not until that Marathon shit. To really feel attached to some to rap shit, that was like the realest shit for me. And then you know Kendrick Lamar. Other than that, no not really 'cause I always looked rap as like "I don't believe most of these niggas that be rapping." But when I can tell it's real, like with Nip, he took some of the same buses I took. Saw everything he was talking about. With Kendrick, he was rapping some super relatable shit.

Malc: I believe Nipsey Hussle served as a role model for the majority of rappers and entrepreneurs in this generation. Are there any artists that laid down the blueprint for your career?

Mani Coolin': A couple. Early on, I could say I was looking at Casey Veggies. We used to be super cool at a point before we popped off. And at the time I wasn't rapping; I didn't have any aspirations of rap, but his shit was going up. Honestly, I didn't even understand what was going on until we were about to graduate high school.

I started to rap then, but it wasn't because he was rapping. It was really the Nipsey shit. I done wrote raps since a kid. I think every kid write down a rap at some point and time in their life. It is something that I had to take serious and I seen it was more possible. I ain't gonna lie, Casey made it very much more possible. And a lot of other people that was around in my city like Tyler the Creator. I knew him personally and everybody in Odd Future, to see them blow up. I use all that as a blueprint, but especially Casey because he was closer to me.

Malc: You had the opportunity to be around a lot of successful artists. Most of them turn to a major label, but you've decided to remain an independent artist, correct?

Mani Coolin': I've been independent my whole career. I've never had no type of backing, no matter what anyone ever thinks. I've never had a budget behind me besides money I've went and got. All this shit been from word of mouth. I got a lot of fans that's going to always root for me and then you got those people that heard of you and seen you popping.

I live through life, you know. I have no deal so I was still living regular life even though I was doing rapping shit. I did Rolling Loud, A3C, and all these types of festivals, shows, headline shows and people see me as a rapper, but at the same time I still pay bills. I was becoming a man so I was going through all types of life shit. As life takes you through its course, you go through things and sometimes you get strayed away from what you love, but if you really love it, you're going to always go hard for what you gotta do. I hate to say it, but this is my job.

Malc: You released your latest project, Here 4 Me Only, last year. If you had the chance, would you make any changes to it?
Mani Coolin': Nah, I like the album. I think it needed to come out. I just think it was slept on. Because the people that hear it, I got great reviews. I just think that it didn't get the proper PR. Hope 4 The Youth was a classic album and hopefully people catch on Here 4 Me Only. But I'm not going to sit around and wait for it, finna drop this hot shit.

Malc: Most definitely, what's a good album if people don't hear it. What's your favorite track on the album?

Mani Coolin': Lowkey, "Smokin' Reggie," "Wheezy," and "Black Hearts."

Malc: And you have a lot of music out with Niko G4, who recently went under Dom Kennedy's wing. Have you guys considered releasing a joint album?

Mani Coolin': I think it's going to come soon. I feel like when the time is right. Besides that, we're going to give you a lot of music this year. Between me and him, it'll probably be an album worth by the end of the year. We got a lot of shit together, you know we apart of the same shit. And whatever, he doing, I'm behind it.

Malc: The two of you frequently represent the Roll With The Winner$ campaign. Can you break it down for me?

Mani Coolin': That's G4 shit, not to get it confused. Me and bro been friends since 8th, 9th grade. He started off with the RWTW$ and he been pushing it since the beginning of his career. Even though we super tight. We started off our careers together. In the same studio, on the same day. We always linked up in between time, but we were just working on our music at a young age. He built up RWTW$ in the time I built up a career and it just became the right time for us to link it in. And I stand for everything that the RWTW$ stand for and that's just being a solid individual and putting on for your peoples.

You want to be a winner in life and that's all we represent, winning in life. And you know, I just started adding onto that shit. I wanna see it be global.

Malc: Additionally, you work very closely with the brand Only. How did that come about?

Mani Coolin': Same shit. That's my boy League shit. Me and bro got cool later on in my life, right before I put out Hope 4 The Youth. Him and Two Time are solely the reason that project got put out. And there was a lot of energy behind that project. League came up with the Only shit. I feel like Only and Roll With The Winner$ is damn near similar and they stand for the same thing. And those are the homies, I'ma put they shit just like it's mine.

Malc: There are a lot of L.A. rappers taking off this year including Blueface, Correy C, Roddy Ricch, Boogie, and of course yourself. Who do you think is leading the West Coast rap scene right now?

Mani Coolin': Nipsey gonna forever be the best. Who ever come after that, honestly, I haven't been listening to anybody. I respect everybody doing their own, but I've been on my own shit.

Malc: And when it comes to working with others, do you have any collaborations?

Mani Coolin: Hell yeah. Of course Kendrick, J. Cole, Ab-Soul. I feel like I'ma get there. Especially now, I been so locked in. Just on some different shit, like I wake up and I read. The energy I've been on different. The type of music I been making is just that real shit, undeniably.

Malc: Aside from music, what are your plans for the year?

Mani Coolin': That's all I got planned to be honest. My mind ain't nothing else besides music. That was the problem the prior years, my mind on different shit. I don't got nothing else on my mind other than the music bro.
Follow Mani Coolin' on Twitter and listen to his latest album Here 4 Me Only above.
For more, follow Malc on Twitter and look forward to new interviews in the near future.